Welcome to van Greuningen Pharmacy in The Hague
Your pharmacy if you live or work in the Statenkwartier, Geuzenkwartier or Scheveningen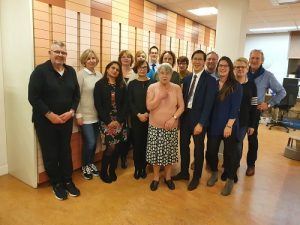 At Pharmacy van Greuningen, we can provide you with a range of health services. We provide both prescription medication  and over the counter medicine. We're also able to help you with minor health issues and are happy to answer any questions you might have about medications, or about minor health issues.
Locker service
We can provide 24/7 dispensing services through our locker system. The lockers allow you to pickup your medication at the moment that's most convenient to you. Our lockers are placed next to the Huisartsenpraktijk Statenkwartier at Eisenhowerlaan 81. If you wish to make use of them, please let us know.
Repeat prescriptions
Our online repeat dispensing service enables you to order from us directly, provided you are in possesion of a valid repeat prescription.  To order this, you simply click the link in the "online services" menu for "Herhaalrecepten". We will then take care that your medicines are available when you call.
Opening hours
Our pharmacy is open Monday till Friday from 8.30 AM – 18.00 PM and on Saturday from 10.00 AM – 13.00 PM.
Holidays 2020:
Tweede Paasdag, ma 13 april:  CLOSED
Koningsdag, ma 27 april: CLOSED
Hemelvaartsdag, do 21 mei:  CLOSED
Tweede Pinksterdag, ma 1 juni:  CLOSED
Kerstavond, do 24 dec: OPEN till 16.00h
Eerste Kerstdag, vr 25 dec:  CLOSED
Tweede Kerstdag, za 26 dec:  CLOSED
Oudejaarsdag, do 31 dec: OPEN till 16.00h
Nieuwjaarsdag, vr 1 jan:  CLOSED
Outside our regular hours, it is possible to visit the emergency pharmacy.
The emergency pharmacy is located near the Haga hospital Leyenburg, Charlotte Jacobslaan 10, 2545 AB Den Haag. Phone number: 070-2101465
Route
Statenlaan 40
2582GN  s-gravenhage
Tel:(070) 3551343
Fax:(070) 3553098
E-mail: info@apotheekvangreuningen.nl
VAT: NL805561146B01
KVK number: 27162139